With over 20 years combined experience, our fully trained multidisciplinary team have consistently produced excellent quality work within set financial budgets and to the tightest of deadlines.
After 10 successful years of trading, ATPB has managed to build and maintain a highly regarded reputation amongst key clients and industry professionals across London, Greater London and the South East of England.
ATPB work on small, medium and large scale major projects across a range of sectors including Retail, Commercial, Mixed-use, Residential, heritage and conservation sites, regeneration projects and urban extensions. Our quality of work remains unrivalled not only because of our qualified professionals who inspect their own workmanship, but due to the Director of the company regularly inspecting projects personally to ensure his high standards have been met. 
This ensures that our clients receive an attentive service and that all completed projects reflect our company abilities. All clients, no matter what size or value, are treated individually as a key priority to our firm. This meticulous attention to detail and personable approach from our team has subsequently led to almost 85% of ATPB projects coming from client recommendations and word of mouth.
Gallery of Recent Work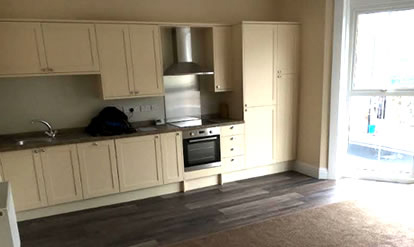 Project: Kitchen Refurbishment Location: Lewisham 27/5/2017

The existing kitchen was removed, redesigned and installed as shown. We supplied and fitted new flooring throughout.
Project: Kitchen Refurbishment Location: Blackheath 12/6/2017

Full bathroom redesign with hot water cylinder cupboard removed to create space. Door relocated and renewed. Room was re-plastered, retiled and fitted with contemporary fixtures.
Project: Kitchen Refurbishment Location: North Greenwich 10/7/2017

Existing kitchen removed, redesigned and installed as shown. We completed a full electrical rewire to the kitchen and supplied and fitted the flooring to match units and tiling.
SCOPES OF WORKS

CONTACT US

A.T.P.B LTD

174 Woolwich Road
London
SE7 7RA 


Tel:020 8853 3055
Email: info@atpb.co.uk
Head Office:  0208 853 3055